Message From Pastor David Bruce. In the 10 years of ministry with Loaves and Fishes, I can't tell you the numberof times the way forward was not obvious; but we waited on the Lord, prayed and in His time the answer and theresources were made available. We are ALL in such a time. Yes, the coronavirus is potentially deadly. We need to
stay safe. We yearn for the way forward. My faith is unshaken. Jesus Christ is King. Loaves and Fishes, like many
families and organizations, faces some challenging financial times! For ALL of us the answer is the same – wait,
pray and God will provide the answers and protect us. Read Matthew 6: 25-34 -"Do not worry" – it may help you.
We are buoyed up by many examples of people helping people. Peace be with you.
Celebrate Our 5K Run/Walk Race For Recovery Results. North Carolina Governor Cooper's executive order
postponed the 5K race just 36 hours before the start (March 14th). Temporarily shocked and discouraged, we
notified 144 participants and many volunteers. But when the dust settled, we had a net profit of $12,400 from the
5K Run/Walk! Our generous sponsors, donors and participants made this happen! The new race date is November
21, 2020. Sign up today at https://runsignup.com/race/nc/beaufort/loavesandfishesrunforrecovery/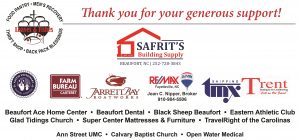 C-Virus Cuts Thrift Store Revenue. More than 50% of Loaves and Fishes' revenue comes from the Thrift Stores'
sales. Initially closing the stores and now operating on a safe but limited basis, has created a deficit of $10,000 to
$12,000 per month. Thankfully, donations and the 5K race profits have carried Loaves and Fishes through April
and will much of May. We have faith in God. Can you help us carry on these ministries as we wait for improved
times?
Here is one possible way. If you can afford to, would you consider giving a tithe (10%) of your Federal stimulus
check to Loaves and Fishes? Any amount given will help us carry on our ministries! Thanks in advance.